Attendee comments Vol. 1
June 19th, 2017
The 7th International Sendai Symposium on Biliary Atresia (7th ISSBA) was held at the Sendai International Center on May 11th – 13th.
This event which gathered hundreds of pediatric surgeons included number of foreign pediatric surgeons as a guest speakers. One of them was Professor Devendra Gupta, who revisited Sendai after more than 20 years. He had kindly offered to share his impression on Sendai.
Only one hour and a half away from Tokyo, prompt and precise bullet train access to Sendai and good connectivity within the city itself eased his stay. Paper slips with destinations in Sendai written on it provided by the conference organizer also helped his travel without any language difficulties. Not only the green and the relaxing environment impressed him, "traditional Japanese dishes served in so many variations were superb!" recall strict vegetarian who enjoyed the dinner at Toyokan, traditional Japanese style restaurant.
Before flying back to New Delhi, frequent traveler and experienced convention holder encouraged us with tips on hosting a good convention – "good convention city requires, facility, good connectivity, infrastructure, and good support from the government. It's a combination of many components." – we hope this will not be the last time he visits us. Thanks again to Professor Devendra Gupta who spared his time during his busy schedule!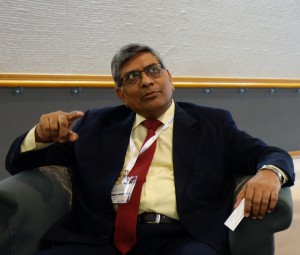 Professor Devendra K Gupta
Head of the Department of Pediatric Surgery at the premier All India Institute of Medical Sciences, New Delhi. Immediate Past President of WOFAPS and had organized 58 conferences, including the Asian Congress and the World Congress of Pediatric Surgery. [Online, accessed on June 1st 2017, www.wofaps.org/teachers/devendra-gupta/]