We can introduce you to attractions unique to Sendai.
Download Pamphlet [ PDF 6.3MB ]

Oshu Sendai Omotenashi Group Date Busho Tai Warriors
Sendai Suzume Odori (Sparrow Dance)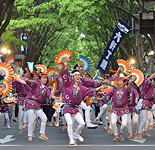 This dance represents local Sendai entertainment and is said to have begun in 1603 as a dance to celebrate the completion of the walls of Sendai Castle.
The dance has nimble and uplifting characteristics and is performed by approximately 140 dance groups in the Aoba Festival in May who compete to be the best. The dance is also performed internationally and nationally at various events. The dance can be arranged for various sized stages and times. The dance is accompanied by large and small drums, pipes and bells.
Akiu Taue (rice planting) Dance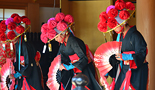 An important intangible folk cultural asset. This is a dance that at the beginning of the year prays for plentiful crops. Young girls in beautiful costumes move like planting rice in their dance followed by a variety of dances. In 2009 the dance was registered by UNESCO as an 'Important intangible folk cultural asset' for mankind.
Chigusa Japanese Dance School Co. Ltd
The dance school performs traditional style Japanese dances at company celebrations and reception parties for international conferences. The music and costumes are selected according to the style of meeting.
Folk Song and Dance Ensemble Honenza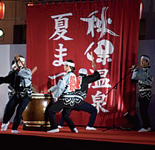 The festival dance stage creates a place for people to connect with other people. The Japanese orchestra plays appealing music with Japanese drums and is a celebration of nimble dancing and music. The group also offers workshops to experience how to play the drums, folk dance and sing folk songs.
Nakaniida Tiger Dance to ward off fire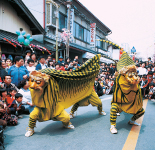 This has been recognized as an important intangible folk cultural asset in Sendai and has a history of 650 years. The tiger dance portrays, and is dedicated to, an old Chinese story, 'Clouds follow the dragon and the wind follows the tiger'. It is said the dance started as a prayer to ask the tiger to appease the winds and prevent fire.
Sendai Association of Arts Promotion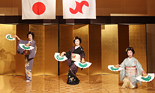 The association has contributed to the development and the spread of the national style of fashion, music and the inherited style of the geisha. It has a long history and is an important Sendai cultural artifact.
Traditional Performing Arts Co., Ltd. Nakatsubo Arts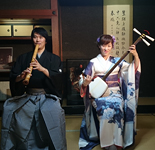 Performances are designed to suit the region and consist of folk and traditional performing arts. Their performances can be just viewed or participated in. They also play overseas folklore, jazz, classical and popular music.

Shibata Siblings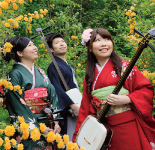 This is a group successful from the Sendai, Miyagi region. They have a total of 40 wins in national contests. In the group division of a national shamisen contest they are undefeated and have won five consecutive titles.
Sho Asano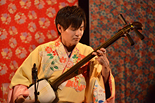 Sho Asano is a young shamisen performer who earned himself a place in the Hall of Fame at the age of 17 for winning three consecutive national Tsugaru Shamisen contests. With an overwhelming performance and rich expressive power he is called a genius. He travels to the Baltic States and South East Asia to perform.
Three Stringed Instruments Odashima Style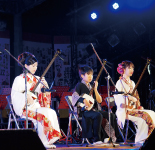 This is a group of Tsugaru shamisen musicians Tokuo Odashima instructed by. They have many titles from national contests. They are expanding to perform overseas and performed at the G8 Toyako Summit and also at an event to celebrate the 35th anniversary of the Japan China Treaty.
Kamo Tsunamura Drums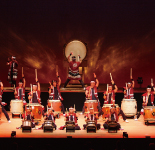 The Kamo Tsunamura Drums are a creative Japanese drum group who also perform the Sparrow Dance. The group performs in a variety of venues and were champions of the Tohoku Wadaiko Drum contest and also competed in the Japan National Wadaiko Festival. Since 2005 the group has performed abroad and is expanding the scope of its activities.
3D- Factory Ltd.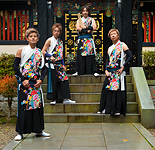 3D-Factory Ltd performs Japanese drum and shamisen shows, either individually or as ensembles. They are based in Miyagi Prefecture but are active all over Japan and also perform overseas.
Rifu Drums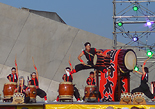 Since its formation the group has actively participated in and performed at the summer festival, special events, volunteer activities and school events. They perform both within and outside the prefecture.
Tagajo Drums Preservation Society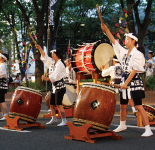 The group was created in 1979 in co-operation with the revival of the Deer Dance in celebration of the 10th anniversary of Tagajo becoming a city. The group is valuable as local history tellers and their dance themes depict historical fact.
Yuriage Drums Preservation Society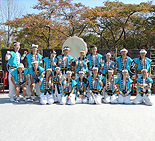 The group has restarted in May 2011 after having lost its stage and some members to the Great Eastern Japan Earthquake. To show appreciation for all the assistance received and to show Yuriage's cheerful appearance the group continues to perform in and out of Miyagi Prefecture at reconstruction events and festivals.
YUU (playing the wind instrument called a sho)
The musician is dedicated to introducing the heart-warming sounds of this old wind instrument called 'sho' to the world, overcoming Williams Syndrome and allowing his musical talents to bloom.
Chikusen Takahashi (ancient wind instruments)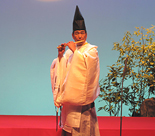 This musician plays modern music on wind instruments reproduced from those of the Heian Period 1000 years ago.
Sendai Instrumental Trio Support Club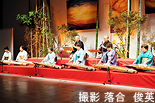 The club began with the ambition of spreading knowledge of Japanese traditional instruments through schools and the community. The club participates in a variety of annual events.


Grape Company Co. Ltd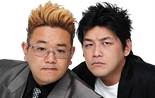 A comedian duo named Sandwich Man from Miyagi prefecture as well as other entertainers belonging to the Grape Company can provide entertainment at events.
Yoshimoto Creative Agency Co. Ltd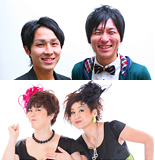 Bakusho Comedians, a group of local Sendai comedians and Matsutomi, a comic duo who live in Sendai, are able to host your event and keep it lively.
Tiina・Kariina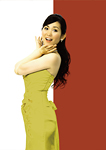 The music industry's first "Osaka-born ・ Sendai artist". Her major debut was with the single 'Anta' in September, 2012. After only three months the song shone at the Japan Record Awards and received the Newcomer Award. In 2014 she performed a cover concert of Showa Kayo's masterpiece "Hitori Showa Kayo Festival".
Michinoku YOSAKOI Festival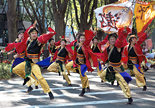 People dance with clappers to contemporary arrangements of Tohoku region folk songs. Each dance team shows off their original costumes and choreography with unique performances.
New heroes Co., Ltd.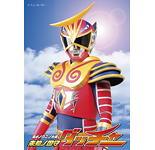 Miyagi's local hero Michi-no-kuni-no-kami Dacchar. Entertainment incorporating Miyagi dialect and culture that everyone, from children to adults, can enjoy.
Chindon Shiogama CM Inc.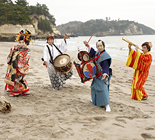 Founded over 80 years ago. The group performs chindon, a traditional type of Japanese street advertising using costumes and music and lion dances, as well as dance shows at events, festivals and parties.
Sendai Philharmonic Orchestra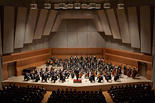 The Sendai Philharmonic Orchestra represents Sendai as a city enthusiastic about music.
Sendai Mori no Hibiki Concert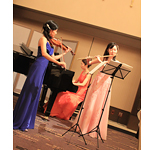 The group performs mini concerts at conferences, academic conferences, seminars, anniversary events and entertains your guests with live performances.
Marine Music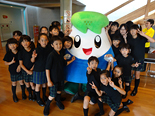 This is a group singing children's songs which started in 1994 at a piano school. The members' ages range from 4 to 20 years old.
String concerto Goggero Solisten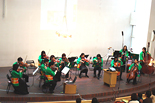 Classical, baroque, popular, nursery rhyme, enka (traditional-style Japanese popular ballads)…this group will entertain you with your favorite music genre.
SENDAI Verdures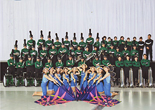 A marching band focusing on events within Sendai.
Hand bell Choir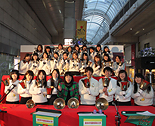 The Hand bell Choir performs at various events and is a group of students who begin the bells on entry to university. They all love the bells and making music with them.
Drum Cafe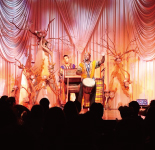 You can feel uplifted and experience a feeling of oneness with others created by the unique rhythm of playing the African percussion instrument "Jembe" in any venue.